THE THREE THINGS YOU CAN HEAR - Seamus Cater
The Three Things You Can Hear was released as a CD by
Annihaya Records
in Beruit on January 21st 2016. The LP was released as a silk-screened edition of 300 by Nearly Not There Records, Amsterdam on February 29th.
Credits:
Seamus Cater : voice, duet concertina, Rhodes piano
with:
Han Jacobs (saw)
Johnny Chang (viola)
The International Nothing:
(Kai Fagaschinski and Michael Thieke - clarinets)
Koen Nutters (double bass)
Morten J. Olsen (rotating bass drum and vibraphone)
&nbsp&nbsp&nbsp&nbspPaintings by Philipp Kremer
&nbsp&nbsp&nbsp&nbspDesign by Noem Held
&nbsp&nbsp&nbsp&nbspSilk-screened by Erik Fliek
&nbsp&nbsp&nbsp&nbspRecorded by Clare Gallagher
&nbsp&nbsp&nbsp&nbspMastered by Jeff Carey
&nbsp&nbsp&nbsp&nbspDistributed by
Honest Jon's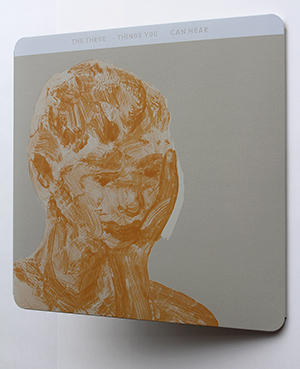 Reviews:
"The first track on Seamus Cater's latest record, The Three Things You Can Hear, introduces such a unique and singular sound that, paradoxically, the listener's first instinct is to go searching for comparisons and precedents. It's a tough job. Sure, there are elements of Ivor Cutler but in Cater's work the music is tied to the voice, and to the content of the lyrics, in a way that is natural, organic and inseparable. There is an aftertaste of Arthur Russell here too, and a hint of atonality that recalls Nico's work with John Cale, or indeed some of Cale's more challenging solo work. But none of those comparisons really nails it. There is a narrative element to Cater's record that becomes more apparent, and more engrossing, the more you hear it. That first song, Crabb 9807, documents the rescue of a 1941 concertina from junk shop obscurity in Amsterdam, and the slow rehabilitation of that instrument until it was in a state where it could be played on, you guessed it, this album. The ultimate example of the twin narratives of music and lyrics binding together. The style is almost bardic in its ability to relay narrative. A truly original record with a cosmopolitan and at times improvisational feel."
Thomas Blake - FRUK
YOU CAN HEAR HERE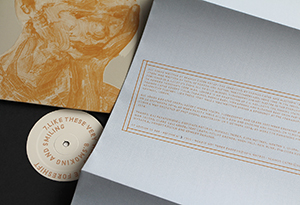 "Someone remind Seamus Cater of his two wonderful records created in collaboration with banjo player Woody Sullender ("When We Get To Meeting", BU #143) and multi-instrumentalist Viljam Nybacka ("The Anecdotes", BU #168), and the single Lunora / The Piano (BU #192), the first to carry his name alone. The debut for the long haul arrives arrives today with The Three Things You Can Hear."
Stefano I. Bianchi - Blow Up
"Every in and out breath and every suggestion of a note here is a point of interest, surrounded by lots and lots of silence. Cater's approach to these impressionistic-narrative folk songs is similar to artists of the ECM label: with almost religiously devoted, sensitive explorations and improvisations. His influences appear to be drawn from jazz and contemporary classical circles. This album emphasises Cater's solo work, carefully complemented with guest contributions from various Berlin musicians. The sacred, highly minimalist atmosphere of the music and the unusual sound of the concertina immerse the listener in a timeless, almost unreal atmosphere. Cater uses his voice more in a storytelling mode than as an all out singer, and a bit more freedom for the guest musicians could add a dash of light here and there. But the listener who surrenders and allows every note to be heard will be ultimately breathless and deeply touched."
Benjamin van Vliet - Gonzo (circus)
"The loveliest thing about the record is Cater's penchant for sudden melodic clarity: he foresees a quick massage of real song amidst a kind of ambient stillness, and suddenly his vocal will meet a quick flourish, or an oscillating instrument. Songs that wake up, quite accidentally, onto their own magic. The Three Things You Can Hear is gorgeous and weird, and it feels like an accident happening on purpose."
Norman Records
"Despite working with what could be termed 'traditional instrumentation', Cater is not afraid to deviate from traditional songform. His unhurried approach to his material tends to focus the listener's attention. His is more than simply a considered approach; he has a deep and sympathetic relationship with his material and the history and tradition within."
Paul Khimasia Morgan - Honest Music For Dishonest Times
"TTTYCH delivers an idiosyncratic amalgam of minimal music, drone, folk, lo-fi and experimental music. As if Pauline Oliveros, Colin Stetson, Arthur Russell, Philip Glass and Smog started jamming. A unique, intense and extraordinarily beautiful experience. You do not even need to hear three things to be completely won over by this authentic magnificent work."
Jan Willem Broek - Subjectivisten
"An introspective, very personal, even intimate album by this Amsterdam-based Briton whose parents were folk singers in Essex. The Three Things You Can Hear sounds equally beautiful and sad, belle et triste. Primarily in the solo pieces, secondarily in interaction with various Berlin guests. The brilliant Lebanese label Annihaya prove once again their sense for extraordinary music with this release, oh my dear. A record of the year, whatever may come."
Felix - freiStil