The Anecdotes - Seamus Cater & Viljam Nybacka
Song duo active from 2009 to 2012. A series of biographical song portraits of 19th and 20th century artists and athletes. CD and numbered LP (Edition of 500) available on Anecdotal Records. The Anecdotes was recorded in New York by Shahzad Ismaily in 2011.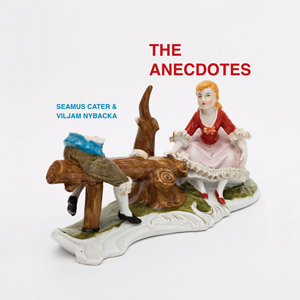 Listen here...
UK Distribution -
Honest Jon's Records
US Distribution -
Forced Exposure
High Res press photo
here
. Photo by
Blommers / Schumm
Review extracts:
"With a refined mix of English folk, jazz and avant-garde music, this is one of most impressive folk records to be heard in recent times. From the opening track's biography of Bas Jan Ader to the exquisite duet between re-tuned harmonica and ukulele on the closing number 'Alexis Lapointe', we're on the edge of our seats listening. An utmost intelligent addition to a century old narrative (folk) tradition. Respectful, daring and without borders."
GONZO (circus)
"A hushed, enchanting blend of genuine British folk revivalism with stimulating, literary songwriting and experimental instrumentalism, crafted and subtle. This is great stuff, fully engaging, warmly recommended."
Honest Jon's
"It is an almost unreal world both rooted and uprooted from the folk-inherited blood of Seamus and reinterpreted in between Robert Wyatt and his own most personal life; the circles of avant-garde which make up his background. I once would have said "destined to become a small cult" but I am increasingly aware that it's a sentence without the slightest meaning."
Blow Up (Italy)
"This is music stripped down to its very core components and then reconstructed with all but the most essential parts removed."
Norman Records
"Strange music that is folk like, blues like but at the same time also has something that is sufficiently different than what you would traditionally expect from folk or blues. That makes this record again 'odd but great', certainly something quite captivating."
Vital Weekly